What's Included In Rules and Regulations
Regulation Monitoring
Policies That Protect
Training To Keep You Compliant
Help With Practical Details
"All-consuming" is an apt word to describe the job of keeping up with the enormous stack of ordinances, decisions, requirements, rules and regulations that govern your relations with your workforce. Worse, you might find that the regulations you understood and complied with have changed on any given day as everyone from the Supreme Court to your local city council weighs in.
In short, it's likely you don't know what you don't know, and that means it's only a matter of time before you're out of compliance and in trouble.
The Solution: StaffScapes
We can make sure you're informed about all local, state and federal requirements that affect you. We can also ensure you stay in compliance with practical partnership that protects you and your workforce.
Regulation Monitoring
It's our full-time job to monitor the changes in the law, understand the implications and keep you informed. We can ensure you comply with federal and state labor laws, IRS and state tax regulations, OSHA posting requirements, COBRA rules, the Americans with Disabilities Act, Family Medical Leave Act and more.
If a change in regulations requires a change in your business, we'll advise you on how best to proceed.
Policies That Protect
Get everyone in your workforce on the same page, literally. We can help you develop written policies, procedures and handbooks that will make it clear to your workforce what the requirements are and how to comply with them.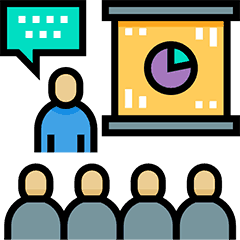 Training to Keep You Compliant
We'll back those policies up with employee education. At a minimum, every business needs to understand and address employment regulations surrounding discrimination (age, race, disability, etc.), overtime and minimum wages, family leave, age military leave, gender-pay differences, workplace safety, and immigration. Proper training will ensure your workforce—Especially your leadership team—knows the lay of the land and how to comply.
Help with Practical Details
In order to remain in compliance, you'll need to document disciplinary actions and terminations carefully. Clients also find that if an employee comes forward with a complaint or allegation, an unbiased third party is in the best position to investigate the matter and find the truth. We'll be your partner in handling these matters in a way that protects you, your employees and your reputation.
Benefits For You
Bringing StaffScapes on as a partner will allow you to do the following:
Connector.

Keep Compliant

With our help navigating the maze of government regulation, you'll be able to obey regulations, find and correct areas where you're out of compliance, and avoid fines, lawsuits and other government actions.

Connector.

Keep Your Good Reputation

Getting cited for non-compliance could ruin your reputation and endanger your business, even if you had no ill-intent. We'll make sure you stay in the right, protecting you from damage to your image and finances.

Connector.

Maintain Your Focus

Handing regulation monitoring to us will allow you to put your focus on leading your team and making decisions that help you profit today and grow in the future.
Get Started
Ready to see what outsourcing your rule and regulation compliance can do for your company? Schedule a consultation today, and we'll examine your needs and discuss options.